System of education
The Latvian education system consists of pre-school education, basic education, secondary education and higher education. General education in Latvia in total lasts 12 years consisting of compulsory 9-years basic education and 3-years secondary education. Additionally pre-school education at age of 5-6 is compulsory in Latvia.

Basic education stage comprises general basic education (grades 1-9) and vocational basic education. Secondary education stage comprises general secondary education, vocational secondary education and vocational education. Higher education comprises both academic and professional study programmes.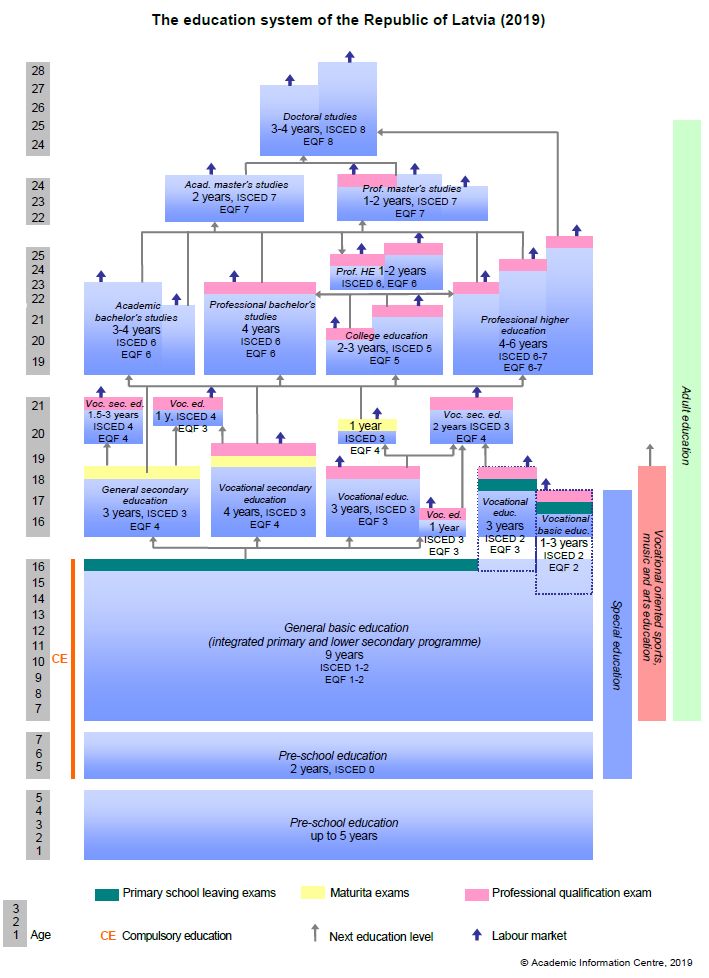 ---
Vocational education in Latvia
Vocational education programmes in Latvia are provided at three levels:
basic education (integrated primary and lower secondary);
secondary education (upper secondary);
higher education.
Vocational education combines education and practical training (50-65% of curricula depending on the type of programme) at school and enterprises. Vocational education at secondary level can be implemented also as an apprenticeship type scheme (nationally called "work-based learning") with flexible curricula taking place alternately at school and in enterprise.
Vocational education institutions, depending on founder, can be public (State, local government) and private. Institutions that provide vocational secondary education programmes and additionally act as regional methodological and continuing education centres and carry out validation of non-formal and informal learning may obtain a status of vocational education competence centre according to criteria established by the Cabinet of Ministers.
---
Латвійська система освіти і доступні у ній кваліфікації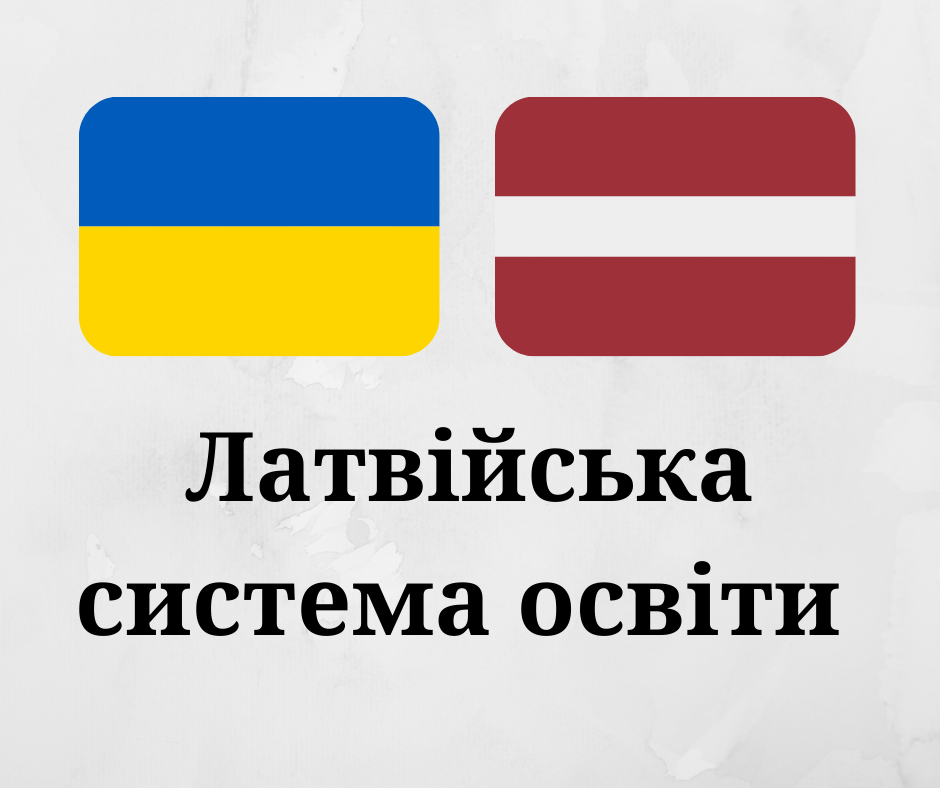 Латвійська система освіти складається з дошкільної освіти, початкової освіти, середньої освіти і вищої освіти. Тривалість загальної освіти складає 12 років, що передбачає обов'язкову 9-річну основну освіту та 3-річну середню освіту. Окрім цього, у Латвії обов'язковою є дошкільна освіта у віці 5-6 років.
Рівень початкової освіти передбачає загальну основну освіту (1-9 класи) та професійну основну освіту (7-9 класи). Середня освіта передбачає загальну середню освіту, середню професійну освіту та професійно-технічну освіту. Рівень вищої освіти передбачає як академічні, так і професійні навчальні програми.
Освітні документи (кваліфікації), що здобуваються на всіх рівнях освіти у Латвії (крім дошкільної), включені у 8 рівнів Латвійської рамкової кваліфікацій (ЛРК), що також відповідають рівням Європейської рамки кваліфікацій (ЄРК).
Латвійські кваліфікації формальної освіти у відповідності до рівня ЛРК (2018)
Кваліфікація
Рівень ЛРК/ ЄРК
Рівень освіти
Загальна початкова освіта (спеціальна освіта для здобувачів освіти з важкими розумовими відхиленнями)
1
Основна освіта

Загальна початкова освіта
Професійна початкова освіта
Безперервна професійна освіта
2
Професійно-технічна освіта
Безперервна професійна освіта
3
Середня освіта

Загальна середня освіта (забезпечує доступ до вищої освіти)
Середня професійна освіта (забезпечує доступ до вищої освіти)
Безперервна професійна освіта
4
Коледж (термін очного навчання 2-3 роки)
5
Вища освіта



Бакалавр
Професійний бакалавр
Професійна вища освіта (термін навчання на денному відділенні – не менше 4 років)
6
Магістр
Професійний магістр
Професійна вища освіта (загальна тривалість очного навчання – не менше 5 років)
7
Доктор
Професійний доктор гуманітарних наук
8
Відповідні рівні ЛРК/ЄРК указані в документах про освіту (додаток до диплому).
Детальніша інформація про ЛРК доступна на сайті Національного координаційного центру (англійською мовою):
nqf-latvia.lv.